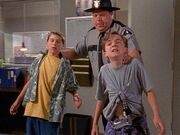 Stock Car Races is the tenth episode of Season 1 of Malcolm in the Middle and the tenth episode overall of the show.
Hal takes the boys to see stock-car races on a school day. While she's looking for her paycheck, Lois cleans the house and finds enough evidence to ground the boys.
Francis sneaks a snake into the academy. Dewey constantly punches himself in order to get Reese in trouble so he can relax in front of the TV.
Malcolm is upset about having to dance in front of the school with the other Krelboynes, so he decides to ditch school. But when Hal convinces him that taking him to school will be the highlight of his day, so Malcolm is guilted into going.
The boys are shocked though when Hal tells them they aren't going to school. He takes them to the racetrack to see the last race of the best driver ever Rusty Malcolm. After two laps, the boys decide to get some cokes. While arguing over who should watch him though, the boys lose Dewey and enter a forbidden room instead of staying hooked on finding him, only to be caught by a security guard. Meanwhile, Francis' disobedience affects the rest of the cadets'
This episode reveals that Malcolm was named after Rusty Malcolm, and that Francis and Reese were originally going to be named Malcolm for the same reason.
At the very end of the episode,when Hal and the boys come home,in Francis' basket are cigarettes called ''Morley''.It's a referance to the movie ''Pulp Fiction''
Ad blocker interference detected!
Wikia is a free-to-use site that makes money from advertising. We have a modified experience for viewers using ad blockers

Wikia is not accessible if you've made further modifications. Remove the custom ad blocker rule(s) and the page will load as expected.